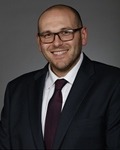 Derek is an Arizona real estate agent and a part of the Craig Bennett Group. He found his passion for real estate at a young age while helping his father build custom homes in New York and North Carolina. After purchasing his first home in Phoenix in 2016, he was inspired to help others find their perfect home here in the valley. Derek's passion for real estate is apparent through his excellent communication skills, commitment, and determination to provide his clients with the best buying and selling experience possible.
Prior to becoming a real estate agent, Derek worked in the construction industry for twelve years. With his vast knowledge of residential and commercial construction, Derek has an eye for detail and recognizes the value of quality craftsmanship for his clients.
Derek is a member of the Scottsdale Area Association of Realtors and holds a B.S. in Construction Management from East Carolina University. In his spare time, he enjoys spending time with family and friends, playing golf, and volunteering with at risk youth organizations.